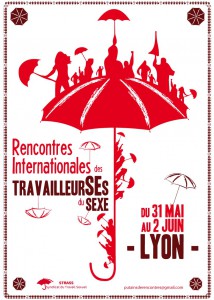 We look forward to your suggestions for our international meetings of sex workers organized this year in Lyon!
A meeting, for whom?
For sex workers, prostitutes, hookers, escorts, porn actor-actresses, bar hostesses, masseuses, phone or webcam operators…
A meeting, to talk about what?
Sex work has in recent years gone through significant changes:
increased repression, development of internet work, changes in modes of prevention, etc.
The meeting will aim to discuss these new practices and promote the sharing of experiences and information about the various forms of sex work:
Our business and practices: the evolution of sex work, and how does one adapt to these changes.
Our paths and our identities: what difficulties do you encounter as women, gays, trans people; as a migrants; as sex workers?
Laws and repression:  criminalization  of clients; anti prostitution municipal by-laws; neighbours petitions, arbitrary arrests, denials of justice …
Our political organization: which fight against repression and stigmatization? What tools and political perspectives? For a trade union approach.
A meeting, how?
Two-day meeting on Sunday May 31 and Monday, June 1: assesment of our situations, workshops, press conference.
A demonstration on June 2, because 40 years after the occupation of the Church of Saint Nizier, we are still fighting for our rights.
This call for presentations and workshops is open to sex-workers and will focus on proposals from sex workers.
All persons who are or have been sex worker may offer a workshop or other intervention.
The call is open to sex workers living or working abroad. We strongly encourage sex workers involved in activism and / or organizations  to present the situation in their country, their struggles and their demands.
We hope to organize a panel with representative of European organizations.
Workshops can be focusing on any form of sex work: street sex work or indoor (escorting, hostess bars, massage parlors, gay social spaces …), pornography, informal sexual-economic exchanges …
Suggested topics:
– Safety (self-defense tips and tricks to work safely)
– Workshop on our Bdsm-domination practices
– Workshop for a united and inclusive community (addressing the problem of conflicts between sex workers and organizational needs of sex workers)
– Building alliances
– Health (information on STIs and prevention strategies)
– Repression: criminalization of clients, municipal  by laws, criminalization of soliciting; which collective strategy to fight?
– Issues faced by migrant sex workers
– Working on internet 
– Male Sex Workers
– Administrative, how to register for tax purposes
– Trade union and political struggle
The workshop proposals will be the basis of the program of the meeting; thank you for giving us your ideas before April 30 to the following address:
If we receive a high amount of proposals, we will do our best to select those that will complement most the programme.
Share the post "CALL FOR PROPOSAL FOR WORKSHOPS FOR INTERNATIONAL MEETINGS OF SEX WORKERS (LYON, 31 May – 2 June)"
Ce message est également disponible en : French